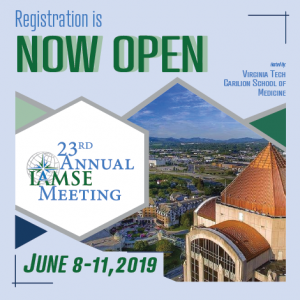 We are pleased to announce that registration for the 23rd Annual Meeting of IAMSE, to be held June 8-11, 2019 in Roanoke, VA, USA, is now open. At this annual meeting of the International Association of Medical Science Educators (IAMSE) faculty, staff and students from around the world who are interested in medical science education join together in faculty development and networking opportunities. Sessions on curriculum development, assessment and simulation are among the common topics available at the annual meetings.

Featured plenary speakers include Don Cleveland, Claudia Krebs, Craig Lenz and Geoff Talmon.

Additional meeting details and registration can be found at http://www.iamseconference.org.