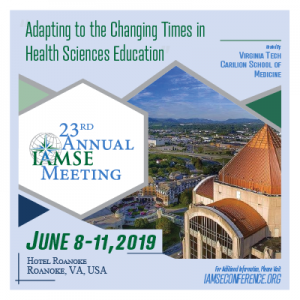 The International Association of Medical Science Educators (IAMSE) is pleased to announce the call for focus sessions for the 23rd Annual IAMSE Conference to be held in Roanoke, VA, USA from 
June 8-11, 2019
. The IAMSE meeting offers opportunities for faculty development and networking, bringing together medical sciences and medical education across the continuum of health care education.
The purpose of a 90-minute Focus Session is to "focus in" on a specific topic in small group discussion format. Groups of 10-50 individuals consider a particular topic in an interactive format. Formats can be variable. Additional information about Focus Group formats is available here.
All abstracts must be submitted in the format requested through the online abstract submission site found here.
Submission deadline is September 15, 2018. Abstract acceptance notifications will be returned by November 15.
Please contact Danielle Inscoe at Danielle@iamse.org for any questions about submission.
We hope to see you in Virginia next year!