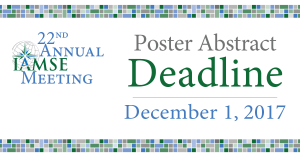 The International Association of Medical Science Educators (IAMSE) is pleased to announce the call for abstracts for Oral and Poster presentations for the 22nd Annual IAMSE Conference to be held at the Green Valley Ranch and Resort just outside of Las Vegas, Nevada from June 9-12, 2018. The IAMSE meeting offers opportunities for faculty development and networking, bringing together medical sciences and medical education across the continuum of health care education.
Please click here to submit your abstract today.
Please note: The first time you enter the site, you will be required to create a user profile. All abstracts for Oral and Poster presentations must be submitted in the format requested through the online abstract submission site.
Students who would like feedback on a draft of their abstract prior to final submission should email it to the Student Professional Development Committee, care of Mary Dereski (dereski@oakland.edu), by November 1.
Submission deadline is December 1, 2017. There is no limit on the number of abstracts you may submit, but it is unlikely that more than two presentations per presenter can be accepted due to scheduling complexities. Abstract acceptance notifications will be returned by March 1.