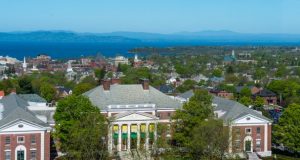 Burlington, Vermont is a beautiful, small city located on the shores of Lake Champlain, in between the Adirondacks and the Green Mountains in the Champlain Valley. Along with countless outdoor activities, and scenic vistas, Burlington gets national attention for its music and food scenes, daytime adventures, and vibrant nightlife. This small city is a vacation destination for visitors and a quality-of-life dream for residents. If you have some downtime before, during, or after the IAMSE Meeting, be sure to visit some of the wonderful things Burlington and Vermont have to offer!
Burlington Discover Jazz Festival – The Jazz Festival will be held June 3-11, 2017. If you arrive in Burlington before the IAMSE Meeting begins, be sure to check out the music of the jazz festival! More information on the jazz festival may be found here.
Church Street Marketplace – Downtown Burlington's award-winning open air mall is a hub of activity where you'll find historic architecture, year-round festivals, street entertainers, music and over 100 places to shop and dine. For more information on the Church Street Marketplace, click here.
Waterfront Park/ECHO/Bike Path – Right off the city's Main Street, the Waterfront neighborhood is a lovely place to spend the afternoon. Explore the local ecosystem at the ECHO Lake Aquarium & Science Center, take a ride on Burlington's scenic eight-mile bike path or lay out a picnic spread in Waterfront Park.
Shelburne Museum – Nearly 40 buildings, filled with various exhibits, span the museum's 45 acres. There's even a respectable collection of impressionist paintings, featuring the works of Degas, Cassatt, Manet and Monet. More information on the Shelburne Musem may be found here.
Craft Breweries – Vermont has a very successful craft brewery scene. If you like craft beer and craft cider, be sure to set aside some time to visit a few breweries! Some breweries include: Queen City Brewery, Zero Gravity Craft Brewery, Magic Hat Brewing Company, and Citizen Cider.
Shelburne Farms is a working farm set on the shore of Lake Champlain. It has 1,400 acres of pastures, woodlands, gardens, and historic buildings that are a beautiful setting for learning as well as strolling, photography and relaxing. In addition to historic barns, the campus includes the Market Garden, woodlands, dairy, and The Inn at Shelburne Farms, which contains a world-class restaurant. Visit them through our Virtual Tour. Admission is free.
Have more time to see Vermont? Take a ride along Lake Champlain on an eight-mile bike path for some of the most beautiful scenery in the country. The lovely resort town of Stowe (home to the Trapp Family Lodge and the Topnotch Spa) is an easy 45-minute drive, and Montreal is less than two hours away.
There's still time left to register for the IAMSE Meeting if you haven't already done so! Be sure to visit www.iamseconference.org to register today.