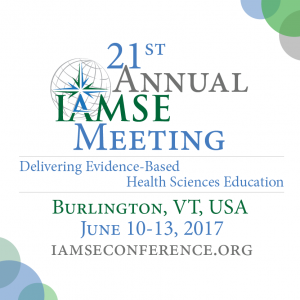 The 2017 IAMSE Meeting has come to a close and it truly is one for the record books! First, this year marked the 20th anniversary of the founding of IAMSE and we celebrated the occasion by honoring IAMSE Founder, Dr. Roger Koment. Second, meeting registration numbers were the highest in the organization's history! The response to this year's theme, "Delivering Evidence-Based Health Sciences Education" was impressive. The outstanding plenary presentations enlarged our understanding of the research on learning and cognition. The high-quality conference sessions, oral presentations and posters demonstrated application of these research-derived principles and challenged us to make changes in our own work as educators. Finally, and thanks to the efforts of the Student Research Committee, we benefited from the participation of learners and welcomed them as future colleagues into our conference and organization.
Membership in IAMSE is more than paying the annual membership fee and joining the listserv. Attending and contributing to the annual meeting helps the organization – our organization – fulfill its mission to "advance health professions education through teacher development and to ensure that the teaching and learning of medical science continues to be firmly grounded in foundational sciences and the best practices of teaching." Without a doubt, the 2017 meeting hit the mark while still offering the networking, professional development, and participant engagement for which our meeting is known.
Sincere thanks and appreciation to the 2017 Program Committee, the Larner College of Medicine, and the University of Vermont for their dedicated and enthusiastic support in planning this outstanding meeting in Burlington, Vermont.
For updates on next year's meeting, be sure to follow the IAMSE Facebook and Twitter pages.