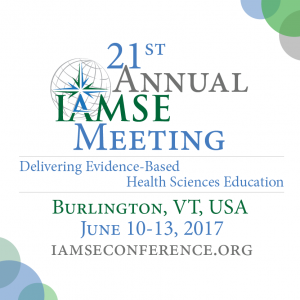 We are just a few days away from the 2017 IAMSE Meeting in Burlington, Vermont. As you are preparing for your trip, there are a few items to note/remember!
As with nearly all conference hotels, air conditioning tends to be cooler than many like – pack the extra sweater or jacket just in case!
Bring comfortable walking shoes. While the hotel is flat and easy to walk, it is more enjoyable in comfortable shoes.
Transportation from the airport to the hotel is available by the Sheraton hotel shuttle. The shuttle is available for hotel guests daily from 4:30 AM through midnight. To arrange for the shuttle, please call the hotel at +1-802-598-9518.
An informational desk will be set up at the Sheraton Burlington Hotel on Friday, June 9th from 10 AM – 5 PM if you have any questions.
All sessions are located at the UVM Davis Center. Room locations are listed within the meeting app for each session. If you're not sure where to go, please be sure to stop by the registration desk in the Scarlet Oak Lounge on the third floor of the Davis Center!
Parking permits are available to park on UVM's campus. Please email the Admin Office at support@iamse.org if you need a parking permit and have not already done so.
Beginning Saturday, a shuttle bus will run between the Sheraton and various hotels to the Conference Center and vice versa. This service is offered on a limited number of times per day. A detailed bus schedule has been published in the meeting app, on the conference website (http://www.iamseconference.org), and will also be available at the registration desk.
Don't forget to download the meeting app! You can download the app here: https://crowd.cc/s/Gk56. Once downloaded, use the search feature in the app to search for IAMSE and find the 2017 Meeting. If you don't have an iPhone, iPad, or Android device, you can still view the app in your mobile browser by visiting https://crowd.cc/iamse17
Due to travel, the IAMSE Administrative Office will be closed during the Meeting. We will still be answering emails, but may be slightly slower than usual. If you have any last minute questions or concerns, please be sure to let us know via email at support@iamse.org!