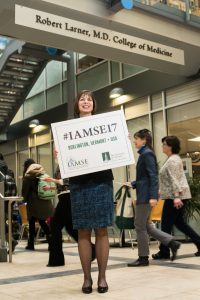 This year's annual meeting will focus on "Delivering Evidence-Based Health Sciences Education." We will be led in our discussions and deliberations throughout the event with internationally-renowned plenary speakers Dr. Eric Mazur, Dr. Patrick G. Croskerry, Dr. Jimmie Leppink and Dr. Jeffrey D. Karpicke and other education scholars and innovators. The conference theme will explore the evidence for effective teaching strategies and challenge us to ask difficult questions about how we teach and assess learners and the scientific evidence to support our work. This scholarly approach to health sciences education will be reflected in the meeting's posters, oral sessions and workshops.
The Larner College of Medicine at the University of Vermont looks forward to welcoming you to beautiful Burlington, Vermont in June 2017. Vermont is centrally located in New England for easy access to the major metropolitan areas on the East Coast, including New York, Boston, New Jersey, Connecticut and Montreal, Canada. Consistently ranked among America's top places to live and top college towns, Burlington is a vibrant city with downtown shopping, lakefront areas, and an active local food and craft brewing scene. There are many outdoor activity and recreational options for all ages, and the Green Mountains are only a short drive from the city. There will be much to experience so I encourage you to bring yourself, your colleagues, and your families!
Have you registered for the 2017 IAMSE Meeting yet? Register online today at www.iamseconference.org!