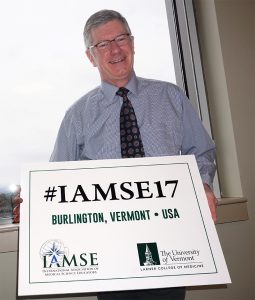 As Site Host, I am excited to remind you that the 21st Annual IAMSE Meeting will be in Burlington, Vermont, USA, on the beautiful campus of the Larner College of Medicine at the University of Vermont. Burlington is the educational, medical, financial and cultural epicenter of our state and is a popular year-round vacation destination. The pre-conference workshops and the main IAMSE meeting (which has received a record number of abstracts) will make use of our excellent university facilities and will feature world-class speakers and facilitators. There will be a daily wellness and fitness program and we are planning a social program for families and friends of attendees. The annual IAMSE Gala Dinner will take place at the ECHO Leahy Center for Lake Champlain, which features interactive science exhibits along beautiful vistas. You will find the city easy to get to, with direct air service at the Burlington International Airport by American, Delta, United, JetBlue and Allegiant airlines. The city is 220 miles northwest of Boston, 285 miles north of New York City and just 100 miles southeast of Montreal.
In addition to the superlative IAMSE program, there will be lots to see and do in Vermont. Located on the shore of the sixth largest freshwater lake in the U.S., Lake Champlain, and in the shadow of the Green Mountains, Burlington is Vermont's largest and most cosmopolitan city. Trip Advisor suggests that it is the "perfect blend of old New England charm, arts, culture and nature." No matter where you go, you'll be sure to find something you love in Burlington. You can tour the campus, stroll the Farmer's Market and historic Church Street, visit the many museums, shops and breweries, take a cruise or paddleboard on the lake and hike or bike hundreds of miles of dedicated trails. Lake Champlain's waterfront is perfect for summer nights and the famous Burlington Jazz Festival will coincide with the meeting. Burlington is also known as a gourmet destination and is home to the "locovore" food movement. So please plan on attending the IAMSE Annual Meeting here in Vermont and consider bringing your family for a wonderful visit to New England!
Have you registered for the 2017 IAMSE Meeting? The Early Bird Deadline is April 1st, so be sure to register before then to receive the reduced registration rate. You can register online anytime at www.iamseconference.org.