AMEE 2020: The Virtual Conference will be taking place around the globe from September 7 – 9. The IAMSE virtual exhibit booth will be present at the conference exhibit, so if you plan on attending this meeting, do not forget to swing by and say hello!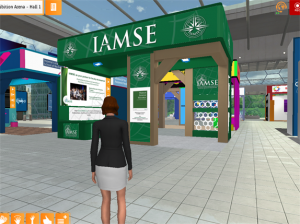 IAMSE display at AMEE 2020: The Virtual Conference
IAMSE members will also be presenting a Round Table discussion session titled, "New Directions in Health Sciences Education" on Tuesday, September 8 at 4:45pm BST/11:45am ET. Presented by Peter de Jong (Moderator, the Netherlands), Cortny Williams (USA), Kelly Quesnelle (USA), and Emily Bird (USA) this session will highlight a few current developments in health sciences education with a specific focus on the response to the COVID-19 pandemic by providing new and innovative ways for curriculum delivery. If you are at the meeting you are invited to join the session.
For more information on the AMEE conference, please click here.
We look forward to seeing you there!