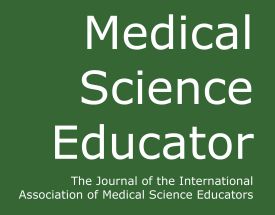 Every month, the IAMSE Publications Committee reviews published articles from the archives of Medical Science Educator or of its predecessor JIAMSE. This month's review is taken from MSE, volume 27.
Physicians are faced with the fast pace of medical innovation and also need to understand the importance of evidence-based medicine in both clinical and non-clinical settings. Additionally, there is a significant need to train individuals who will enter into academic medicine and who will pursue careers as physician-scientists. Medical schools are faced with the challenge of providing experiential opportunities for their trainees that foster critical thinking, problem solving and analytical skills in order to train the next generation of physicians to meet the challenges associated with the evolution of medical practice and to understand the importance of research in medicine. One approach that has been recommended by the American Association of Medical Colleges is to provide opportunities for medical students to engage in research. Many institutions offer summer research programs for medical students, but it is essential to assess the outcomes associated with such programs in order to determine their effectiveness and how such programs should evolve to continue to foster the acquisition of skills and knowledge that will enable the physicians of tomorrow to meet the changing landscape of medical practice. To begin to address these questions, students and preceptors who participated in the Medical Student Summer Research Program (MSSRP) at Boston University School of Medicine (BUSM) were surveyed to understand short- and long-term outcomes associated with the program after 15 years. The findings of the survey and their implications are discussed in a recent study entitled Faculty and Student Evaluations of a Medical Student Summer Research Program: a 15 Year Analysis, published in the Medical Science Educator, Volume 27, (pages 75-82), 2017, by authors T Ho, A Agarwal, J Khambhati, S Sarfaty and AE Hirsch from Department of Radiation Oncology at BUSM.
The authors determined that the MSSRP has played a strong positive role in exposing students to research and that overall, there was a high level of satisfaction on the part of both students and preceptors who participated. Importantly, it was determined that the highest level of satisfaction for students correlated strongly with preceptor availability and the potential for the ongoing studies to result in tangible outcomes such as publications. Conversely, preceptors expressed their highest level of satisfaction in connection with students who were able to integrate effectively into existing research teams. These findings strongly support the importance of having strong mentorship, and providing a collaborative environment. They also support the importance of fostering the ability of students to work in a team. Importantly, it was also determined that research during the first year of medical school has a significant impact on student attitudes towards the role of research and their likelihood of pursuing research throughout medical school and beyond. Finally, exposure to research opportunities in the first year appeared to affect the choice of a medical specialty and the competitiveness of residency programs to which students applied. In summary, the MSSRP at BUSM effectively promotes the development of physicians with an appreciation of the importance of evidence-based medicine and the role that physician scientists play.