Our association is a robust and diverse set of educators, researchers, medical professionals, volunteers and academics that come from all walks of life and from around the globe. Each month we choose a member to highlight their academic and professional career, and see how they are making the best of their membership in IAMSE. This month's Featured Member is 2020 Annual Program Chair and IAMSE President-Elect Bonny Dickinson.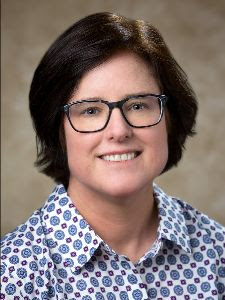 Bonny Dickinson, PhD, MS-HPEd
Associate Dean for Faculty Affairs
Mercer University School of Medicine
Macon, Georgia, USA
First, how are you? How are you adapting to the sudden shift online and from home during the pandemic?
The faculty, administration and students at Mercer University School of Medicine adapted amazingly well to the changes during the pandemic. In some ways, we've become even more efficient and connected although we miss seeing each other face-to-face. I admit I've become a bit of a Zoom-zombie or Zoombie…
How long have you been a member of IAMSE and what is your position in the association?
I joined IAMSE in 2013 when I began a faculty position at The Western Michigan University Homer Stryker MD School of Medicine, which welcomed its inaugural class of medical students in 2014. I quickly caught the "IAMSE bug" and first became involved with the IAMSE Professional Development committee in 2016 then chaired by Dr. Carol Nichols. This committee nurtured the growth of a subcommittee that I co-chaired with Nicole Deming, JD, MA. This committee, the Committee for the Advancement of Medical Science Educators (CAMSE), launched an IAMSE member survey to better understand the institutional adoption of promotion and tenure criteria for medical science educators. The survey results were published in Medical Science Educator and informed the development of IAMSE Educator and Evaluator Toolkits, which are now freely available on the IAMSE website: http://www.iamse.org/medical-science-educator-toolkits/
In 2017 I was elected to serve on the IAMSE Board of Directors and in 2019 I assumed the role of chair of the IAMSE Professional Development Committee. In 2019 I was also elected to serve as IAMSE President-Elect and chair of the IAMSE 2020 Program Committee. In other roles, I serve as a member of the IAMSE Oversight Committee, the IAMSE Executive Committee, the IAMSE 2021 Program Committee, and as an Associate Editor and member of the Medical Science Educator Editorial Board.
As you find yourself chair of the very first virtual IAMSE meeting, which wasn't the plan at all, what insight can you give us on this event? What will be added, what will be subtracted, and what will be adapted?
IAMSE is truly blessed to have an outstanding Program Committee that developed the agenda for the 2020 annual meeting. Because of the hard work and dedication of the Program Committee members, we will have an outstanding virtual conference. All of the plenary speakers have agreed to present webinars and we will also have the first-ever student-led plenary. We are excited that the student-led plenary will be a new addition to the annual conference and serve to engage our student members, who will be the next IAMSE members and leaders in health professions education.
If I may ask you to speculate, how do you think the sudden shift to a virtual meeting, both for IAMSE and other organizations, will affect meetings in the future? How will IAMSE 2021 in Cancun be different from the original plan?
The virtual meeting planned is going to be novel but also very much like the face-to-face annual meetings in many ways. To engage our membership during this difficult time and to bring new faculty to IAMSE, the conference registration and content will be completely free to both IAMSE members and non-members. A virtual conference program will detail the free offerings that will occur over the span of 4 days in June. Poster and oral presentation abstracts will be published in a special edition of Medical Science Educator as has been done in the past, and members will have the option of loading a PDF version of their posters and recordings of their oral presentations to the conference website for viewing. We plan to also give authors the option of providing their contact information to foster collaboration. Award winners will also be recognized. Awards, including student and faculty travel awards, early and distinguished faculty career awards, the Finnerty Lifetime Achievement award, outstanding poster and oral presentation awards, and the Medical Science Educator reviewer award will be presented. In addition to the plenaries, which will be presented as interactive webinars, we are also considering the possibility of providing focus sessions as a series of summer webinars, so stay tuned!
In general, I think what we will learn is that there is value to streaming conference content, recording content, and making it available to our members who are unable to regularly attend the annual conference. This will strengthen our membership and the association.
It is difficult to say what our IAMSE 2021 meeting in Cancun will look like as so much depends on the development of an effective vaccine and treatment for COVID-19. What is clear, however, is that we will continue to have an annual conference, whether it is completely on-site in Cancun (fingers crossed), a blended conference with on-site and virtual components, or completely virtual much like that planned for June 2020.
Have you had any time to be part of interesting projects, research or activities outside the association recently?
As a new Associate Dean for Faculty Affairs, I've become involved with the AAMC Group on Faculty Affairs, and this has helped me to navigate my new role as my career has shifted from educating medical students to supporting the faculty who teach students.
Anything else that you would like to add?
Yes, I'd like to formally thank JulNet (Julie Hewett, Cassie Chinn, Elizabeth Davidson, Danielle Inscoe, Rachel Hewett, and Amoritia Strogen-Hewett), our sponsor organization Rocky Vista University College of Osteopathic Medicine, and each and every member of the IAMSE 2020 program committee for their enthusiasm and dedication to the association and its members:
•    Gergana Deevska – Idaho College of Osteopathic Medicine (USA)
•    Peter de Jong – Leiden University Medical Center (Netherlands)
•    Emine Ercikan Abali – City College of New York School of Medicine (USA)
•    Laurel Gorman – University of Central Florida College of Medicine (USA)
•    Robin Harvan – Massachusetts College of Pharmacy and Health Sciences University (USA)
•    Melissa Henderson – Rocky Vista University College of Osteopathic Medicine (USA)
•    Mark Hernandez – Alabama College of Osteopathic Medicine (USA)
•    Machelle Linsenmeyer – West Virginia School of Osteopathic Medicine (USA)
•    Matthew Linton –  Rocky Vista University College of Osteopathic Medicine (USA)
•    Michele Monteil – Augusta University/The University of Georgia Medical Partnership (USA)
•    Jennifer Montemayor – Rocky Vista University College of Osteopathic Medicine (USA)
•    Gustavo Patino – Oakland University William Beaumont School of Medicine (USA)
•    James Pickering – University of Leeds School of Medicine (United Kingdom)
•    Sol Roberts-Lieb – Carle Illinois College of Medicine (USA)
•    Lee Schein – Robert Wood Johnson Medical School (USA)
•    Rick Vari – Virginia Tech Carilion School of Medicine (USA)
Stay tuned to upcoming announcements regarding the 2020 IAMSE Virtual Meeting and how to register for this FREE EVENT!