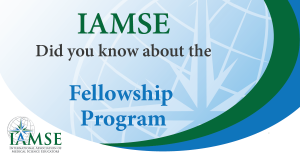 Did you know that IAMSE has a Fellowship program? The Fellowship program is designed to develop well-rounded medical education scholars with additional evidence of specialized achievement that enhances and supports career advancement.
The program is divided into three phases:
Completion of an AMEE Essential Skills in Medical Education (ESME) program
Completion of two, day-long faculty development courses
Completion of a project which results in educational scholarship and demonstrates application of content themes at the participant's home institution
More information on the Fellowship Program may be found on the IAMSE website under the Programs & Services heading.
If you have any questions about the program, please contact IAMSE at support@iamse.org