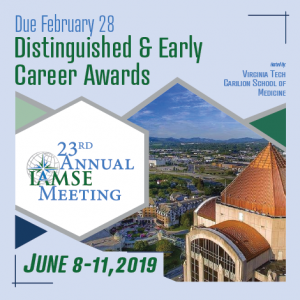 Nominations for the 2019 Excellence in Teaching awards will be closing February 28, 2019. Both awards will be presented at the annual meeting in Roanoke, Virginia in June.
Since 2007, IAMSE has honored member medical educators with two prestigious awards to recognize and promote teaching excellence and educational scholarship in the medical sciences. Qualified candidates may self-nominate, or be nominated by an IAMSE colleague.
Details regarding each award, required application materials, and deadlines are found in the document linked here. All nomination/application packets must be received by Danielle Inscoe (Danielle@iamse.org) no later than February 28, 2019.