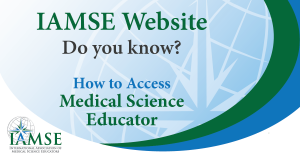 As you probably know, IAMSE publishes four issues of Medical Science Educator (MSE) every year. Did you know that as an IAMSE member you have free access to the journal, as long as you enter the journal through the members-only area of the website?
To access MSE, you'll first need to log in to the member section of the IAMSE website here. Once logged in, simply click "Medical Science Educator" under the IAMSE Publications heading. The link on this page will take you to the MSE website where you can view new and old issues.
Did you know that you can sign up for the table of content alert through Springer? When on the Springer site, look on the right bottom and sign up with your favorite email address. Every time a new issue is published, you will be notified as one of the first!
If you have any questions or problems accessing the website, please just let us know at support@iamse.org.