On behalf of the Board of Directors, I would like to congratulate Bruce Newton on receiving the Edward Patrick Finnerty Lifetime Achievement Award at the 27th Annual IAMSE Conference in June. This award is bestowed upon an individual member who has demonstrated sustained involvement in and commitment to the advancement of the International Association of Medical Science Educators through their many types of service to the organization at the maximal level of performance.
 
The special nature of this award makes it one for which a member may not apply. Rather, it represents the superlative level of recognition that the organization, through selection by its Board of Directors, can provide to a most worthy individual whose work on behalf of IAMSE has shown a consistent history of distinguished accomplishments.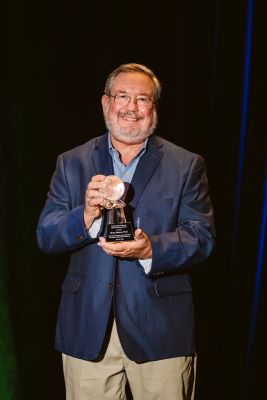 2023 Edward Patrick Finnerty Lifetime Achievement Award recipient Bruce Newton
Bruce Newton serves a Professor and Chair of Anatomy at Campbell University Jerry M. Wallace School of Osteopathic Medicine where he teaches Gross Anatomy, Histology, Embryology, Neuroanatomy, and Neuroscience. His educational research interests include changes in affective and cognitive empathy as students progress through their undergraduate medical education, development of critical-thinking skills, and motivation.
Bruce has been an IAMSE member since 2001 and has contributed to numerous presentations at IAMSE annual conferences. He was Chair of the Professional Development Committee and a member of the Board of Directors from 2003 to 2005. He served as the IAMSE Treasurer for four consecutive terms beginning in 2004 and was the Chair of the Finance Committee from 2008 to 2013. Bruce has co-authored a book on how to be an effective course director available through Springer. This book started the Pre-Conference Workshops at the conference and the course director Pre-Conference Workshop was offered every year for many years – it was referred to as one of IAMSE's "Signature Courses." In 2016 Bruce was presented with the IAMSE Master Teacher Award, now the Distinguished Educator Award. 
It is with sincere appreciation and gratitude to his continued efforts and outstanding support that we bestow this award to our dear friend and colleague, Bruce Newton. Congratulations, and thank you for all that you do for IAMSE.

Bonny Dickinson
President, IAMSE