Dear IAMSE Members,
The Membership Committee is delighted to bring you another issue of IAMSE Connects, your quarterly newsletter that keeps you connected to all aspects of IAMSE. Enjoy!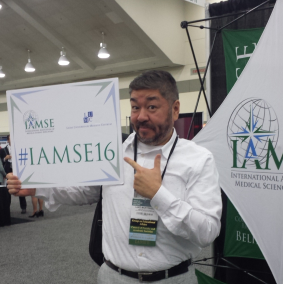 This year's annual meeting theme will have a focus on Learning Assessment. We will be led in our discussions and deliberations throughout the event with internationally-renowned plenary speakers such as Drs. Cees van der Vleuten, Olle ten Cate, Geoff Norman, and other innovation leaders. The language of assessment takes on a world of terminology and best-practice trendings that enliven our daily academic conversations and research (rubrics, evaluation, generational learning needs, formative/summative, feedback, learning portfolios, entrustable professional activities, competency, judgement, peer-assessment, self-reflection, objective/subjective, TBL, PBL, resilience, etc.) and will prove to be the basis for our meeting's posters, oral sessions and workshops. Our beautiful venue in Leiden could not be more inviting and conducive to our gathering and to our individual and group exploration of the quaint and historical Dutch surroundings. Please do plan to join us in The Netherlands this June 2016; there will be much to experience both professionally and culturally so bring yourself, your colleagues, and your families!
-Luke Mortensen, 2016 IAMSE Annual Meeting Program Chair
To register: http://www.iamseconference.org/

As Chairman of our Membership Committee I am writing to make a special request. The committee has been working hard on recruiting strategies to expand our membership and to make sure that IAMSE remains inclusive of all fields of medical study. To that end we recently began discussions on how to determine how diverse we are as a group. We have determined from those conversations that the current profile settings on our website are not sufficient to give us that estimate. Those profile settings have now been edited so that we can get more information on the diversity of our membership. At this time we are asking that you take a few minutes to visit the IAMSE member profile website here so that you can update your personal settings. These updates will allow the membership committee to determine what proportion of our membership are nursing educators, chiropractic educators, allopathic and osteopathic educators, alternative medicine educators, optometry educators, etc.
Thanks for your help,
Greg Smith, Chairman, IAMSE Membership Committee
Vice President, IAMSE

The website is beautiful, easy to navigate, and helps you keep connected. Check it out! http://www.iamse.org/ And don't forget to drop your ideas in the IAMSE Idea Box while you are there!

Member News!
Leslie Wimsatt was appointed as Associate Dean for Academic Assessment, Quality and Development at Des Moines University College of Osteopathic Medicine on September 1, 2015.
Kevin D. Phelan, Ph.D., an Associate Professor in the Department of Neurobiology and Developmental Sciences at the University of Arkansas for Medical Sciences (UAMS), was awarded the Charles H. Lutterloh and Charles M. Lutterloh Medical Excellence Professorship in October of 2015. Dr. Phelan will be formerly invested at the College of Medicine's Dean's Honor Day on April 19th, 2016. The recipient of this honor holds the position for a three-year period and is provided with funds for salary support and educational scholarship. Dr. Phelan has received 12 red sash and 5 golden sash awards from the senior medical students for his excellence in teaching as a faculty member at UAMS. He currently serves as the Co-Director of the Division of Clinical Anatomy, the Director of the Anatomical Gift Program and the Co-Director of the Ultrasound Curriculum in the College of Medicine. He has been a member of IAMSE since 2010 and currently serves as a review board member for the Medical Science Educator journal. He is also a member of the IAMSE abstract review board and the IAMSE board nomination committee.

Looking for a great place to publish your scholarly work? Connect with Medical Science Educator, the Journal of IAMSE at www.medicalscienceeducator.org and on Facebook at http://www.facebook.com/MedicalScienceEducator

The IAMSE Admin team has grown. To better support your membership needs, it may be helpful to know our members and what they do for IAMSE.
Julie K. Hewett, CMP
Association Manager
Julie has been supporting IAMSE for over 17 years in many different ways. Currently, she is responsible for Board and Committee support and conference management. Julie will continue to oversee the rest of the management team to support the overall needs of the Association.
Brandi Hinkle
Account Manager, Membership Support
Brandi's role with IAMSE will be as the first point of member contact whether by phone or email. She will be helping to manage the day-to-day operations of the Association and will be available to answer questions regarding memberships, web audio seminars and upcoming Association activities.
Amoritia Strogen-Hewett
MSE Editorial Assistant, Conference Logistics
Amoritia currently serves as the Editorial Assistant for Medical Science Educator. She will also play a major role in abstract management for the conference as well as on-site logistics.
Kyle Hewett
IT Manager, Conference Logistics
Kyle will be providing IAMSE with his technical expertise in server and website maintenance. He will be working behind the scenes with the Website Committee to evaluate the current website as well as work to improve the services it provides.
Ashleigh Adkins
Graphic Designer
Ashleigh creates graphics for the association while also handling any of the marketing needs that may arise.
Danielle Inscoe
Communications and Website Manager
Danielle manages the social media aspect of IAMSE. She helps create posts to get the word out about what goes on within the organization. She also ensures the website for IAMSE is always up to date while also helping get new content posted as it becomes available.
How to Connect with the Team:
IAMSE
c/o JulNet Solutions, LLC
1404 1/2 Adams Avenue
Huntington, WV 25704
Phone: 304 522 1270
Fax: 304 523 9701
Email:
Julie Hewett: julie@iamse.org
Brandi Hinkle: brandi@iamse.org
Amoritia Strogen-Hewett: amoritia@iamse.org
Kyle Hewett: khewett@iamse.org
Ashleigh Adkins: ashleigh@iamse.org
Danielle Inscoe: danielle@iamse.org
Facebook: https://www.facebook.com/MedicalEducator/
Twitter: https://twitter.com/iamse
Website: http://www.iamse.org
Instagram: https://www.instagram.com/mededucator/